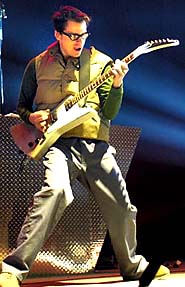 When you neglect the coolest
girl in the world, she's going to tell you it's okay, and she's not mad, and that you should calm down, and the thing is, she probably isn't lying. Duh. That's why they made her
coolest girl
in the world in the first place.
But the simple fact that everything's okay won't make you feel much better. And that's good, in a way.
Because this is a girl who was the only one who said "I missed you!" after you slept in for the first four periods of school yesterday, which is the only time of the day you see her on the regular.
Because this is a girl who you get into staring contests with that are more interesting than most conversations you have with people.
Because this is a girl who just got her tongue pierced, and she's not allowed to use the car, so it's even more dick of you to fuck her over like that.
Because this is a girl who's promised to teach you guitar if you ever scrape together the cash to buy an acousitic like you've been saying you're going to.
Because this is a girl that's the first really close female friend you've ever had that you aren't secretly in love with.
Because this is a girl who deserves rhapsodizing blog entries and pictures of her favorite geeky lead singer even when you haven't done something wrong and you aren't trying to do pennance.
And the thing is, this girl,
if you'd called her at 10:30 tonight and she hadn't been waiting around for your neglectful ass all evening probably sick with worry, and what you were tearing your hair out at the roots about wasn't part of her Economics grade, she still would've listened to you. She would've detected the panic and the remorse in your voice and in that unique and uniquely wonderful voice of hers, said the exact same things.
It's okay. I promise. Calm down.
It would be all your fault, this big whatever it was. You would've forgotten something else, like your grandmother's heart pills, or the twelve-digit combination that would keep the Eastern Seaboard from being reduced to nuclear dust, because time and time again you do things like that, but she'd still find away to make it seem not so bad. Of course she would.
That's why they made her the coolest girl in the world.